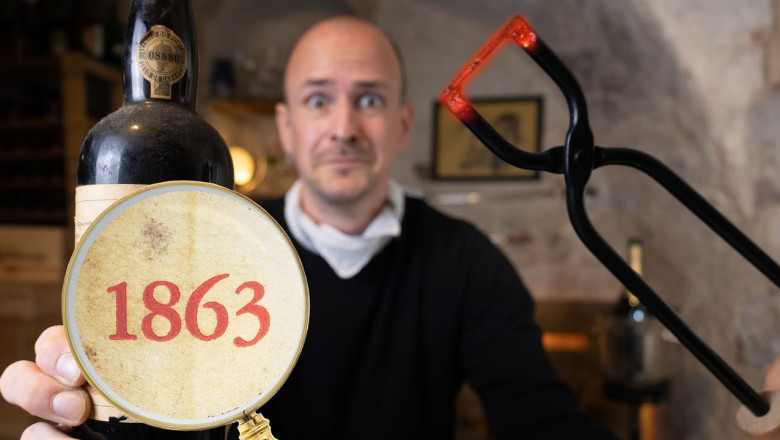 Tasting a 159-year-old wine. Poison or Perfection tasting with Master of Wine.
DRINKING a 159 YEAR old WINE - POISON or PERFECTION?!
Support me on my new PATREON: https://patreon.com/konstantinbaum 
Follow me on ...:
https://www.instagram.com/accounts/login/?next=/konstantinbaum_mw/
Check out my website:
https://meinelese.de
I have used this glass in this Video: RIEDEL Veritas Champagne
I have tasted the following wine in this Video:
1863 J. W. Burmester & Co. Reserva Novidade de 1863 Engarrafado em 1932 – Reengarrafado em 1942
2011 Burmester Colheita
The 100 Point Scoring System (from www.robertparker.com):
96-100: An extraordinary wine of profound and complex character displaying all the attributes expected of a classic wine of its variety. Wines of this caliber are worth a special effort to find, purchase and consume.
90 - 95: An outstanding wine of exceptional complexity and character. In short, these are terrific wines.
80 - 89: A barely above average to very good wine displaying various degrees of finesse and flavor as well as character with no noticeable flaws.
70 - 79: An average wine with little distinction except that it is a soundly made. In essence, a straightforward, innocuous wine.
60 - 69: A below-average wine containing noticeable deficiencies, such as excessive acidity and/or tannin, an absence of flavor or possibly dirty aromas or flavors.
50 - 59: A wine deemed to be unacceptable.
Burmester does not have any records of the wines reaching this far back but from what my contacts said this is a wine from the 1863 vintage that was aged in large barrels and then was bottled into large glass balloons – so-called Demi Johns in 1932. After 10 years it was then bottled into this bottle.
Think about what the wine must have seen over the years. In 1863 Abraham Lincoln issued the Emancipation Proclamation to free slaves in US confederate states, it was also the year the Football Association formed in England and the year the International Committee of the Red Cross was established and the year Rockefeller started the oil business that would make him the richest man in the world.
On top of that, It was also an extraordinary vintage for Port. Most vintage charts do no go back as far as 1863 but I found a couple of older tasting notes rating this wine 100 Points and Taylors's – another famous Port house – made a special bottling of their 1863 and sold it for several thousand dollars a bottle.
Taylors are saying that: "The harvest of 1863 was one of the finest of the nineteenth century and the last great Port vintage before Phylloxera spread throughout the Douro Valley." Yes, that is another interesting part of the story because Phylloxera the insect that destroyed most vineyards in Europe in the late 19th century / early 20th century was first discovered in 1863 in the south of France.
After seeing their vineyards going down the drain winemakers realized that they could combat Phylloxera by grafting their vines onto American rootstocks, that are resistant to this louse. However almost all vineyards in Europe have since then not been planted on their own rootstock and there are some that say that the old – not grafted vines produced better wines
As this is from a vintage before the vines had to be ripped out in the Portugal as well this wine is actually 100% from Vitis Vinifera vines – and from one of the best vintages on top of that. Vintage is a very important factor when it comes to the age worthiness of wines. If you want a wine to age for centuries you have to make sure that it is from a very good producer, from a great vintage, and ideally, a sweet wine as they tend to keep longer.