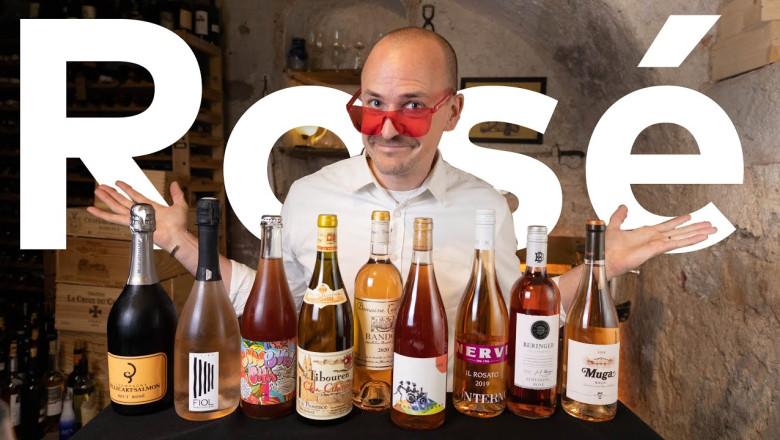 MASTER Drinks Rosé Wines from Cellar Tracker
Support me on my new PATREON: https://patreon.com/konstantinbaum
Master DRINKS the Best ROSÉ Wines from Cellar Tracker
Follow me on ...:
https://www.instagram.com/accounts/login/?next=/konstantinbaum_mw/
Check out my website:
https://meinelese.de
I have used this glass in this Video: RIEDEL Veritas Champagne
I have tasted the following wine in this Video:
2020 FIOL Prosecco Rosé Spumante Extra Dry Italy – 19 US $
NV Billecart Salmon Champagne Brut Rosé France – 93.6 US $
2020 Milan Nestarec Bum Bum Cha PétNat Moravia Czech Republik – 31.2 US $
2020 Rennersistas Gewürz Burgenland Austria– 30 US $
2018 Clos Cibonne Tibouren Cotes de Provence Cru Classe – 35 US $
2020 Domaine Tempier Bandol Rosé Provence France– 46.8 US $
2019 Nervi-Conterno Il Rosato Piemont Italy– 22.8 US $
2020 Bodegas Muga Rioja Rosado Rioja DOCa Spain – 15.6 US $
2020 Beringer Classic Zinfandel Rosé California USA – 10 US $
The 100 Point Scoring System (from www.robertparker.com):
96-100: An extraordinary wine of profound and complex character displaying all the attributes expected of a classic wine of its variety. Wines of this caliber are worth a special effort to find, purchase and consume.
90 - 95: An outstanding wine of exceptional complexity and character. In short, these are terrific wines.
80 - 89: A barely above average to very good wine displaying various degrees of finesse and flavor as well as character with no noticeable flaws.
70 - 79: An average wine with little distinction except that it is a soundly made. In essence, a straightforward, innocuous wine.
60 - 69: A below average wine containing noticeable deficiencies, such as excessive acidity and/or tannin, an absence of flavor or possibly dirty aromas or flavors.
50 - 59: A wine deemed to be unacceptable.
To make sure that you get to enjoy the Vie en Rosé this summer I tasked my intern Leon to search for the exciting, highly rated Rosés on Cellar Tracker and I will taste his selection for you and tell you everything you need to know about this.
Rosé is one of the most seasonal wine styles and I rarely open a bottle of Rosé in autumn and winter. It is also a fast growing wine category and more and more producers are trying their luck producing some great but also many boring Rosés I am going to rate the wines according to the 100 Point system and all the information on that can be found below.