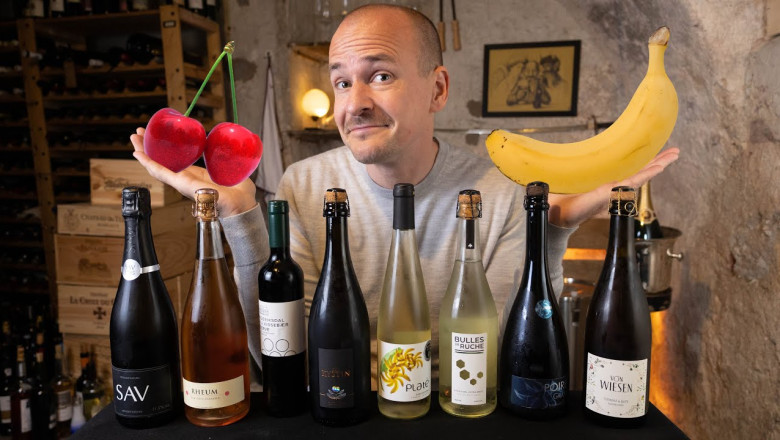 MASTER Drinks Wines that are not Wines: Fruit wines.
Support me on my new PATREON: https://patreon.com/konstantinbaum
Master drinks WINES that are NOT WINES
MASTER Drinks Wines that are not Wines: Fruit wines.
Support me on my new PATREON: https://patreon.com/konstantinbaum
Check out my website:
https://meinelese.de
I have used this glass in this Video: RIEDEL Performance Riesling.
I have tasted the following wine in this Video:
2020 Von Wiesen Quitte & Eisenkraut (Quince and Verveda) Hessian Bergstraße – 12 US $
NV Kystin Cidre (Apple) Cuvee XVII Brittany France – 12 Euros
NV Eric Bordelet Poire Granite (Pear) Normandy France – 17 US $
2015 Cold Hand Winery Rheum (Rhubarb) Denmark – 36 US $
NV SAV Winery 1785 (Birch Tree) Sweden – 20 US $
Bulles de Ruche Hydromel Linden Flower France – 15 US$
NV Bodegas Platé Platé Blanco Semiseco (Banana) Tenerife Spain – 12 US$
Frederiksdal Kirsebaervin Reserve (Cherry) Denmark – 50 US $
The 100 Point Scoring System (from www.robertparker.com):
96-100: An extraordinary wine of profound and complex character displaying all the attributes expected of a classic wine of its variety. Wines of this caliber are worth a special effort to find, purchase and consume.
90 - 95: An outstanding wine of exceptional complexity and character. In short, these are terrific wines.
80 - 89: A barely above average to very good wine displaying various degrees of finesse and flavor as well as character with no noticeable flaws.
70 - 79: An average wine with little distinction except that it is a soundly made. In essence, a straightforward, innocuous wine.
60 - 69: A below average wine containing noticeable deficiencies, such as excessive acidity and/or tannin, an absence of flavor or possibly dirty aromas or flavors.
50 - 59: A wine deemed to be unacceptable.
Wine in most legislations has to be an alcoholic drink made from fermented grape juice. Fruit Wine does not have to be made out of grapes. They are amongst the oldest alcoholic beverages and might even be older than wine made out of grapes but it is difficult to say.
The big advantage of grapes is that you can produce large volumes of them in a vineyard and that they have high sugar levels and therefore ferment readily. But grapes do not grow everywhere so people got creative in order to produce wine. The most popular western fruit wine is cider made out of apples but you can also make wine from bananas, pineapple, cherries or even Dandelions and there is mead, which is made from Honey. I've picked various high-quality fruit and flower wines to see if they can be as tasty as grape wine.