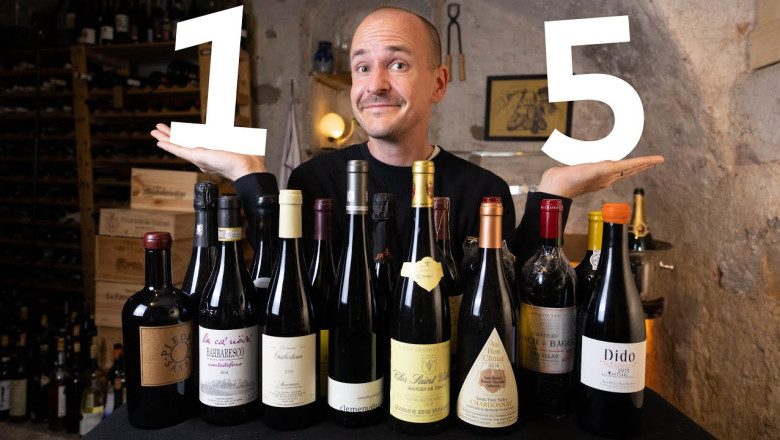 Maillart Brut Platine Champagne
Karl Schaefer Pinot Blanc Sekt Pfalz
2018 Clemens Busch Marienburg GG Mosel
2018 Claude Riffault Les Boucauds Sancerre
2018 Guiberteau Saumur
The ESSENTIAL WINES - 15 bottles to build your collection!
Check out the website:
https://meinelese.de
I have tasted the following wine in this Video:
Maillart Brut Platine Champagne
Karl Schaefer Pinot Blanc Sekt Pfalz 
2018 Clemens Busch Marienburg GG Mosel
2018 Claude Riffault Les Boucauds Sancerre
2018 Guiberteau Saumur
2015 Zind Humbrecht Clos Saint Urbain Rangen de Thann Gewürztraminer
2016 Au Bon Climat  Sanford & Benedict Vineyard Chardonnay Santa Ynez
2007 Bonneau du Martray Corton Grand Cru Burgundy
1998 Lynch Bages Pauillac Bordeaux
2015 Piedrasassi Syrah Santa Maria Valley
2019 Dido La Universal Montsant
2016 La Ca Növa Montestefano Barbaresco
2004 Biondi Sandi Tenuta Greppo Brunello di Montalcino
2007 Vina Tondonia Reserva Rioja
2015 Niepoort Vintage Port
While preparing this video I realized that it is incredibly difficult to limit myself to 15 wines. However, I had to so so don't be mad if your favorite wine is not included. The beauty of the topic of wine is that it is a bottomless barrel. There is always something new to discover, but you need to start somewhere. Today I am starting with the so-called Aperitifs – wines that are usually consumed before you start your meal. 
Champagne: Yes, everyone needs some Champagne… Lily Bollinger already said, "I drink champagne when I'm happy and when I'm sad." Depending on your budget you might only have one bottle of Champagne that you keep for a special occasion, or your cellar is filled with the stuff. Either way, you should have some Champagne ready in case the situation requires it. Apart from drinking it before dinner, you can also pair Champagne with Sushi, fried Chicken, or some cheeses. 
Sekt/Cava/Prosecco: There are also occasions when you do not get out the expensive stuff. Fortunately, there are cheaper sparkling wines available that offer great quality at low prices. Cava, Cremant, or Sekt can be very good options and they are usually below 20 US$. German Sekt is pushing the boundaries at the moment and there are some very good examples available from Germany's signature variety Riesling but also the varieties allowed in the Champagne region. While there are so many more great options, let's now move on to the white wines. 
Riesling is one of the greatest whites to put into your collection as it can be of great quality, it is age-worthy and it is still comparatively cheap. You can get a dry entry-level wine or the high-quality Großes Gewächs wines. There are also amazing off-dry and sweet Rieslings, which usually age even better than the dry versions. Even though dry Rieslings keep for a long time too. At below 20 US$ you can find wines that are very complex and that go well with a vast range of meals. 
Sauvignon Blanc is a crowd pleaser. At a dinner party, it is often the wine that appeals to many different tastes and does not put anyone off. I know, that if I put a Sauvignon Blanc on the table at a party almost everyone will "get it". But it is also a grape that produces wines with depth and complexity. Even though it does not have great aging potential overall, it is a grape variety that does very well with Fish and goat cheese.