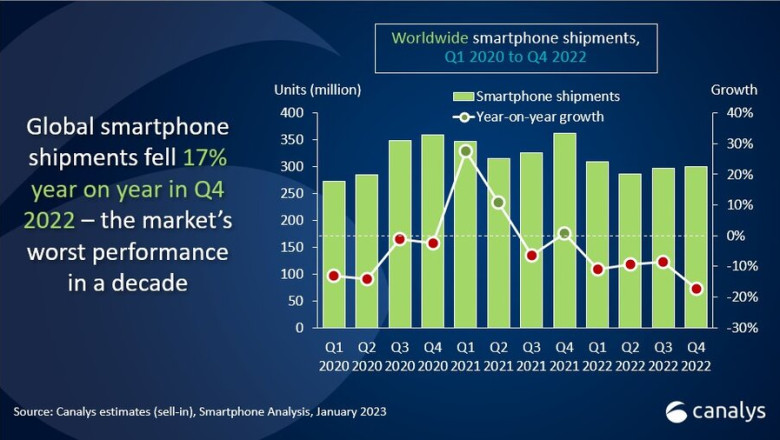 Find the latest press releases, channels and tech analysis available
Canalys Newsroom - Global smartphone market shrinks 17% in Q4, to end 2022 with under 1.2 billion shipments 
Established in 1998, Canalys is world-renowned for its research in technology channels and smartphones. Canalys now spans four continents with five offices and employs over 100 people.
The team at Canalys bring with them many years of experience as advisors to the IT and high-technology sectors. Combined with the company's culture of responsiveness to the rapidly changing needs of this dynamic industry this ensures that, in both content and delivery, Canalys provides an exceptional service compared to other industry analyst firms.
We believe that the following values, skills and behavior are vital to what makes us Canalys and therefore help achieve our strategy. Canalys' values are partly about who we are, but also about what we want to be as a company. We hire and promote people based on their ability to demonstrate them.
Canalys was set up in 1998. We have grown to become world renowned for our research in technology channels and smartphones. We provide vendors with subscription services and projects in Channels, Enterprise and Emerging Tech and Mobility. We also host the best and largest independent channels events in APAC, EMEA and LATAM. We have offices and team members in Europe, Asia, North and South America.
In 2020 Canalys established a new, separate company called Canapii, which is part of the Canalys group. Canapii is an online event management platform that provides organizers with unique tools and solutions to host all types of events.
Analysis of the channel is at the heart of our business. We have services to help the world's largest tech companies manage their partner landscape.
Get best in class analysis, go-to-market strategies and more for cloud, infrastructure and cybersecurity channels.
Our portfolio offers accurate and timely views of the opportunities, competitive analysis and market trends across the smart ecosystem of devices.
Get comprehensive data to track smart vehicles and stay up to date on the key trends affecting the automotive industry.
Since Canalys' inception, our team of analysts and consultants around the world have worked with companies in the technology ecosystem to provide custom solutions. Many of our projects are supported using data and feedback from the Candefero channels community. We undertake bespoke work in all our areas of research and have built several specializations within this.
Alys offers vendors a high-value method to evaluate channel partners at scale and engage with them digitally. Vendors can assess the channel's capabilities and nurture partners to grow. After decades of experience working with vendors' partner teams, Canalys understands the strategic challenges facing channel leaders.​
* the site will be machine translated
Tuesday, 17 January 2023
Worldwide smartphone shipments fell 17% year on year in Q4 2022. Full-year 2022 shipments declined by 11% to fewer than 1.2 billion, reflecting an extremely challenging year for all vendors. Apple reclaimed the top spot in Q4 and achieved its highest quarterly market share ever at 25%, despite facing shrinking demand and manufacturing issues in Zhengzhou. Samsung finished the quarter second with a 20% market share but was the largest vendor for the full year. Xiaomi retained third place despite its share falling to 11% in Q4, largely due to challenges in India. OPPO and vivo rounded out the top five, taking 10% and 8% market shares respectively.
"Smartphone vendors have struggled in a difficult macroeconomic environment throughout 2022. Q4 marks the worst annual and Q4 performance in a decade," said Canalys Research Analyst Runar Bjørhovde. "The channel is highly cautious with taking on new inventory, contributing to low shipments in Q4. Backed by strong promotional incentives from vendors and channels, the holiday sales season helped reduce inventory levels. While low-to-mid-range demand fell fast in previous quarters, high-end demand began to show weakness in Q4. The market's performance in Q4 2022 stands in stark contrast to Q4 2021, which saw surging demand and easing supply issues."
"Vendors will approach 2023 cautiously, prioritizing profitability and protecting market share," said Canalys Research Analyst Le Xuan Chiew. "Vendors are cutting costs to adapt to the new market reality. Building strong partnerships with the channel will be important for protecting market shares as difficult market conditions for both channel partners and vendors can easily lead to strenuous negotiations."
Canalys forecasts flat to marginal growth for the smartphone market in 2023, with conditions expected to remain tough. "Though inflationary pressures will gradually ease, the effects of interest rate hikes, economic slowdowns and an increasingly struggling labor market will limit the market's potential," added Chiew. "This will adversely affect saturated, mid-to-high-end-dominated markets, such as Western Europe and North America. While China's re-opening will improve domestic consumer and business confidence, government stimuli are only likely to show effects in six to nine months and demand in China will remain challenging in the short term. Still, some regions are likely to grow in the second half of 2023, with Southeast Asia in particular expected to see some economic recovery and a resurgence of tourism in China helping to drive business activities."
Worldwide smartphone shipments and growth
Canalys Preliminary Smartphone Market Pulse: Q4 2022
Vendor
Q4 2021 market share
Q4 2022 market share
Apple 
23%
25%
Samsung
19%
20%
Xiaomi
13%
11%
OPPO
9%
10%
vivo
8%
8%
Others
28%
26%
Preliminary estimates are subject to change on final release
Note: percentages may not add up to 100% due to rounding
Source: Canalys estimates (sell-in shipments), Smartphone Analysis, January 2023
Worldwide smartphone shipments and growth
Canalys Preliminary Smartphone Market Pulse: 2022
Vendor
2021 market share
2022 market share
Samsung 
20%
22%
Apple
17%
19%
Xiaomi
14%
13%
OPPO
11%
9%
vivo
10%
9%
Others
28%
28%
Preliminary estimates are subject to change on final release
Note: percentages may not add up to 100% due to rounding
Source: Canalys estimates (sell-in shipments), Smartphone Analysis, January 2023
For more information, please contact:
Runar Bjørhovde: [email protected] +44 7787 290 115
Le Xuan Chiew: [email protected] +65 9655 6264
Canalys' worldwide Smartphone Analysis service provides a comprehensive country-level view of shipment estimates far in advance of our competitors. We provide quarterly market share data, timely historical data tracking, detailed analysis of storage, processors, memory, cameras and many other specs. We combine detailed worldwide statistics for all categories with Canalys' unique data on shipments via tier-one and tier-two channels. The service also provides a unique view of end-user types. At the same time, we deliver regular analysis to give insights into the data, including the assumptions behind our forecast outlooks.
Canalys is an independent analyst company that strives to guide clients on the future of the technology industry and to think beyond the business models of the past. We deliver smart market insights to IT, channel and service provider professionals around the world. We stake our reputation on the quality of our data, our innovative use of technology and our high level of customer service.
To receive media alerts directly, or for more information about our events, services or custom research and consulting capabilities, please contact us. Alternatively, you can email [email protected].