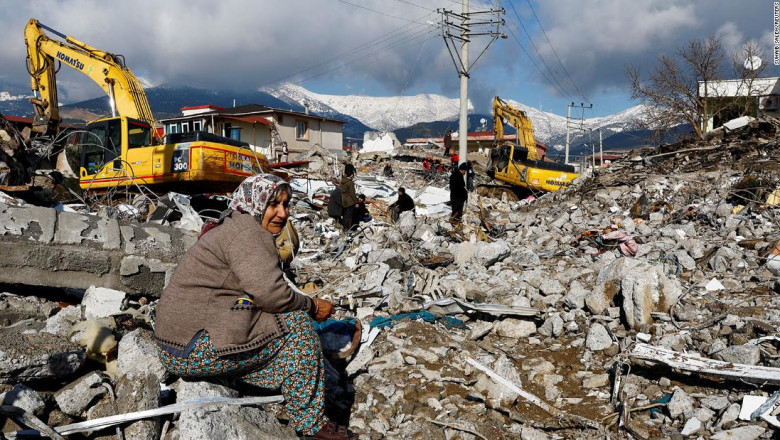 Nearly 9,500 people have been killed and tens of thousands injured after a magnitude 7.8 earthquake struck Turkey and Syria on Monday, according to officials. Follow live updates here.
Live updates: Turkey-Syria earthquake kills thousands
Rescue efforts are growing "harder" due to bitterly cold weather in Turkey and Syria, experts warned, while workers have not been able to access all the disaster areas — raising fears for many trapped under rubble
A cold and wet weather system moving through the region has seen temperatures plummet below freezing, jeopardizing the search for survivors on both sides of the border.
Cold weather ahead: Temperatures are already bitterly low, but are forecast to fall several degrees below zero on Wednesday.
Central Turkey is at its "coldest point" for this time of the year, CNN's senior meteorologist Britley Ritz said.
Meanwhile, in Aleppo, Syria, temperatures are expected to stay at zero or below.
Scattered showers and snow in the region are expected to continue, putting the lives of those trapped underneath the rubble, who have already gone days without food and water, at risk of hypothermia.
share with Facebookshare with Twittershare with emailshare link
The colossal mission to find survivors in Gaziantep has been ongoing for more than 50 hours, with some rescuers using nothing more than their hands to dig through concrete and debris in the southern Turkish city.
A CNN team on the ground said rescuers are still receiving signs of life from what they believe is a "void" underneath a large pile of rubble.
"They will continue as long as they get signs of life before this becomes a recovery effort," CNN's Becky Anderson said at the scene.
Bulldozers and workers wearing helmets are ploughing through the mountainous pile of broken concrete, as plumes of dust surround them.
But they are worried about the infrastructure of buildings either side the rubble, which have been compromised following Monday's devastating quake — and could still collapse.
Global response: An outpouring of international support and aid has flown into Turkey and Syria, but access to many affected areas remains a challenge. Search teams have found it difficult to navigate blocked roads and collapsed buildings, while experiencing frequent violent aftershocks.
share with Facebookshare with Twittershare with emailshare link
A structural engineer and humanitarian coordinator has urged rescuers in Turkey and Syria not to give up hope as survivors could be found up to "weeks" after the massive earthquake hit the region.
Speaking to CNN's Becky Anderson on Wednesday, president of non-profit Miyamoto Global Disaster Relief, Kit Miyamoto, praised the community in Turkey who came together and "did their part" after the quake struck Monday.
"The community, the citizens, they're the ones that are actually the first line of defense," he said. "They dug up family, friends, neighbors."
The Turkish government has been preparing for a disaster as destructive as this one for the past two decades but challenges have made search and rescue efforts difficult, Miyamoto said.
Countries and organizations from around the world have responded to the crisis with donations of money and equipment as rescue workers arrive in Turkey and Syria to help with the recovery operations. NATO said its members are sending more than 1,400 emergency response personnel, while a US rescue team is expect to land in the Turkish city of Adana today.