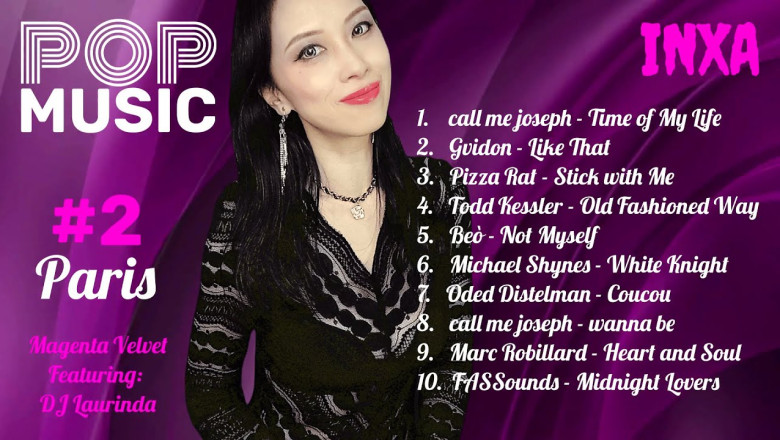 Chic beats, Magenta vibes! Nexth City iRadio 2023 - POP MUSIC #2 at Le Magenta Velvet Label, Paris. on November 18th. It's a musical celebration!
Chic beats, Magenta vibes! Nexth City POP MUSIC #2 Le Magenta Velvet, Paris. Musical celebration!
Paris, France
Le Magenta Velvet Label
21:00, Cocktail
Dress Code: [ Chic ]
Event Code: [ Magenta Velvet ]
Featuring DJ: Laurinda
Welcome to Nexth City iRadio 2023 - POP MUSIC #2, an electrifying musical experience set against the vibrant backdrop of Paris, France. This extraordinary event, located at the iconic Le Magenta Velvet Label, promises an unforgettable evening of music and glamour.
Event Details:
Date and Time:
The musical extravaganza is scheduled starting at 21:00. The night kicks off with a glamorous cocktail hour, setting the stage for an evening filled with the pulsating beats of contemporary pop music.
Venue:
Prepare to be immersed in the enchanting ambiance of Le Magenta Velvet Label, a venue synonymous with sophistication and style. As you step into this musical haven, be prepared to be transported into a world where rhythm and melody converge in a spectacular dance of sound.
Dress Code:
Elegance is key at this sensational event. The dress code is set to [Chic], ensuring that attendees are adorned in their most stylish ensembles. Embrace the glamour of the night as you step into the venue, making a statement with your fashion-forward choices.
Event Code:
Crack the code of the night by adhering to the [Magenta Velvet] theme. Let the spirit of the event guide your attire and immerse yourself in the mystique of the Magenta Velvet experience.
Featured DJ - Laurinda:
Taking the stage and commanding the musical narrative is the enigmatic DJ Laurinda. Known for her unparalleled ability to curate an atmosphere of excitement and energy, Laurinda promises to take the audience on a sonic journey through the best of contemporary pop music.
Musical Artists:
Prepare to be serenaded by an eclectic lineup of musical talents, each bringing a unique flavor to the night. The featured artists include:
call me joseph
Gvidon
Pizza Rat
Todd Kessler
Beò
Michael Shynes
Oded Distelman
Marc Robillard
FASSounds
As the night unfolds, each artist will grace the stage, delivering performances that transcend genres and captivate the audience with their artistry.
A Night to Remember:
Nexth City iRadio 2023 - POP MUSIC #2 is not just a concert; it's a celebration of music, style, and culture. Get ready to dance, mingle, and lose yourself in the rhythm of Parisian nightlife. Secure your spot at this exclusive event and be part of a night that promises to be etched in your memory.
Don't miss the chance to be part of a musical revolution as Nexth City iRadio brings the pulse of pop music to the heart of Paris, creating an experience that transcends the ordinary and propels you into the extraordinary. Get ready for a night where the city's heartbeat aligns with the beats of the music, creating an atmosphere that is truly magical.
🎧Tracklist:
[00:00] 1. call me joseph - Time of My Life
[02:29] 2. Gvidon - Like That
[04:43] 3. Pizza Rat - Stick with Me
[07:18] 4. Todd Kessler - Old Fashioned Way
[11:25] 5. Beò - Not Myself
[14:22] 6. Michael Shynes - White Knight
[17:02] 7. Oded Distelman - Coucou
[19:43] 8. call me joseph - wanna be
[21:56] 9. Marc Robillard - Heart and Soul
[25:49] 10. FASSounds - Midnight Lovers
---------------------------------------------------------------------------------------------------
DJ Laurinda XShows LIVE:
Channels:
-- iTV: djlaurinda.one
-- youtube.com/@nexthcity2931
-- facebook.com/djlaurinda/
-- twitch.tv/djlaurinda
-- Instagram: djlaurinda
-- Tiktok: djlaurinda
Nexth City iRadio 2023, hosted by DJ Laurinda. Powered by the [inxa.one] ecosystem, is a dynamic fusion of music, culture, and innovation. It's a cutting-edge radio experience that redefines the future of audio entertainment.
---------------------------------------------------------------------------------------------------
#music #radio #playlist #DJ #DJLaurinda #Laurinda #POP #POPMUSIC #Paris #France #INXA #nexth #nexthcity #wave #party #remix