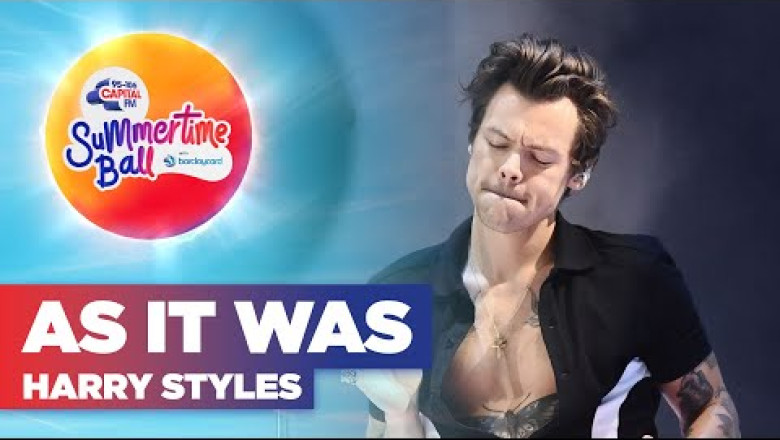 As It Was' was Harry Styles' comeback tune earlier in 2022, before he released his third solo album 'Harry's House'
Harry Styles - As It Was (Live at Capital's Summertime Ball 2022)
As It Was' was Harry Styles' comeback tune earlier in 2022, before he released his third solo album 'Harry's House'
The summery single sounded as magical as expected as Harry made his debut as a soloist at Wembley Stadium.
✨ Watch all the performances, interviews and backstage highlights on Global Player: https://www.globalplayer.com/live/capital/uk/ ✨
👉 globalplayer.com or search 'Global Player' in your App Store 📱
Capital's Summertime Ball with Barclaycard returned to Wembley Stadium, London on Saturday 12th June 2022 with a huge line-up of artists including Harry Styles, Ed Sheeran and Anne-Marie.
Follow Capital for more from the biggest names around…
SUBSCRIBE on YouTube 👉 http://capitalfm.co/Subscribe
Website: http://www.capitalfm.com
Instagram: http://www.instagram.com/CapitalOfficial
TikTok: https://www.tiktok.com/@capitalofficial
Twitter: http://twitter.com/CapitalOfficial
Facebook: http://www.facebook.com/CapitalFM
Welcome to the official YouTube channel for Capital - the UK's No.1 Hit Music Station. Subscribe for celebrity interviews from our radio studio, performances from Capital's Summertime Ball and Capital's Jingle Bell Ball, plus original series just for YouTube.
#HarryStyles #SummertimeBall #Capital