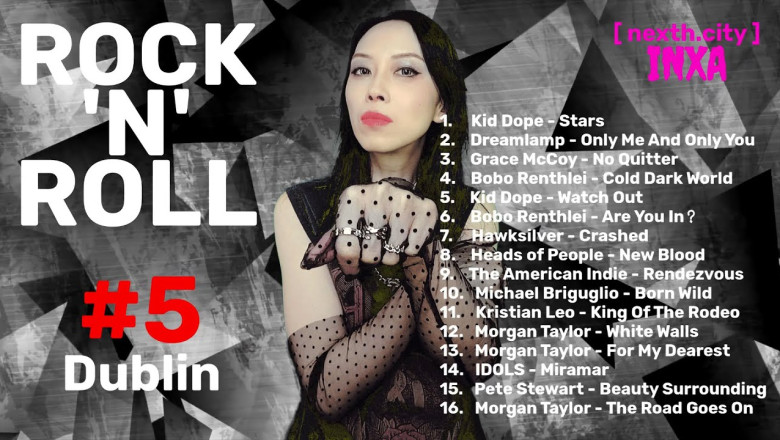 Nexth city ROCK 'N' ROLL #5 - Dublin, Ireland: Unforgettable music night in Dublin! 🎶 #INXAComing
Nexth city ROCK 'N' ROLL #5 - Dublin, Ireland: Unforgettable music night in Dublin! #INXAComing
Nexth city ROCK 'N' ROLL #5 - Dublin, Ireland: Unforgettable music night in Dublin! 🎶 #INXAComing
Nexth City iRadio 2023, ROCK 'N' ROLL #5 - Dublin, Ireland
Nexth City iRadio is back with a bang, and this time it's taking over Dublin, Ireland! The year 2023 marks an exciting chapter in the music and entertainment world, as Nexth City iRadio presents "ROCK 'N' ROLL #5" – an event that's set to redefine the city's nightlife and music scene. So mark your calendars for an unforgettable night, starting at 21:00 in the heart of Dublin, INXA Plaza, where the city's most electrifying Cocktail Party will unfold. Get ready to embrace the Event Code: [INXA Coming], because this is an experience you won't want to miss!
Featuring an incredible lineup of DJs, musical artists, and a rock 'n' roll atmosphere that'll have you dancing until dawn, ROCK 'N' ROLL #5 promises to be a night to remember.
DJs: Laurinda & Rock N Roll Bambino
Nexth City iRadio has curated a roster of some of the most talented DJs to keep the crowd moving throughout the night. Laurinda and Rock N Roll Bambino are ready to spin the tracks that will ignite the dance floor with their electrifying sets. From classic rock to the latest indie hits, these DJs know how to keep the party alive.
Musical Artists:
Kid Dope: Known for their infectious beats and high-energy performances, Kid Dope is set to bring an explosion of sound that'll get everyone grooving.
Dreamlamp: Get ready for a dreamy journey with Dreamlamp, a band known for their ethereal tunes that will transport you to another dimension.
Grace McCoy: Grace McCoy's soulful voice and heart-touching lyrics will captivate your senses, creating a beautifully intimate moment in the midst of the party.
Bobo Renthlei: With a unique blend of rock and folk, Bobo Renthlei will take you on a musical adventure that's both foot-stomping and thought-provoking.
Hawksilver: The electric energy of Hawksilver's music will send shockwaves through the crowd, making every beat feel like a bolt of lightning.
Heads of People: Their melodic rock tunes, combined with powerful vocals, are sure to resonate with everyone in the audience.
The American Indie: Bringing the spirit of American indie rock to Dublin, this band will make you feel like you're at a music festival in the heart of the USA.
Michael Briguglio: A versatile musician, Michael Briguglio's eclectic style will keep you guessing what's coming next, and you'll love every second of it.
Kristian Leo: With his magnetic stage presence, Kristian Leo will have the crowd moving and singing along to his catchy tunes.
Morgan Taylor: Morgan Taylor's unique sound blends rock and pop elements, creating a captivating musical experience.
IDOLS: A rising sensation in the indie scene, IDOLS will have you captivated with their fresh and innovative sound.
Pete Stewart: To close the night on a high note, Pete Stewart will bring a burst of energy and euphoria that will leave you begging for an encore.
This event is set to be the ultimate celebration of rock 'n' roll, indie, and electronic music. With such an incredible lineup, expect a diverse range of sounds that will appeal to a wide range of musical tastes. So whether you're a fan of classic rock, indie vibes, or electronic beats, you'll find something to dance to all night long.
To make the experience even more memorable, INXA Plaza will be transformed into a haven of music and creativity, with cutting-edge visuals, impressive stage design, and a vibrant atmosphere that will set the perfect backdrop for the musical magic that will unfold.
Don't miss out on Nexth City iRadio 2023, ROCK 'N' ROLL #5 in Dublin, Ireland. Assemble your crew, and get ready to dance, sing, and create memories that will last a lifetime. With the Event Code [INXA Coming], you know that something extraordinary is on the horizon. Let's make history in the heart of Dublin as we celebrate the power of music and the joy of a night out in this magnificent city. Rock on!
🎧Tracklist:
[00:00] 1. Kid Dope - Stars
[02:19] 2. Dreamlamp - Only Me And Only You
[05:36] 3. Grace McCoy - No Quitter
[08:34] 4. Bobo Renthlei - Cold Dark World
[10:54] 5. Kid Dope - Watch Out
[14:14] 6. Bobo Renthlei - Are You In?
[16:47] 7. Hawksilver - Crashed
[19:25] 8. Heads of People - New Blood
[21:33] 9. The American Indie - Rendezvous
[24:26] 10. Michael Briguglio - Born Wild
[26:34] 11. Kristian Leo - King Of The Rodeo
[29:41] 12. Morgan Taylor - White Walls
[32:18] 13. Morgan Taylor - For My Dearest
[35:46] 14. IDOLS - Miramar
[38:59] 15. Pete Stewart - Beauty Surrounding
[41:45] 16. Morgan Taylor - The Road Goes On
#music #iradio #radio #lifestyle #playlist #Music #DJ #DJLaurinda #Laurinda #Lake #RockNRollBambino #Dublin #Ireland #Rock #Rockmusic #RockandRoll #hiphop #RetroHipHop #ModernHipHop #Blues #Jazz #ElectronicMusic #ElectronicDanceMusic #EDM #DarkElectronic #ChillElectronic #Blues #Jazz #INXA #fun #quirky #wave #party #partymusic #remix #mix