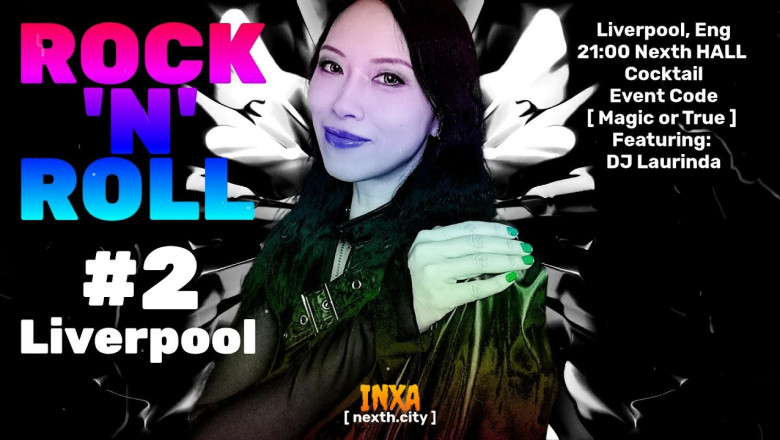 Nexth City Presents: ROCK 'N' ROLL #2 in Liverpool, England

21:00 Nexth HALL, Cocktail
Event Code: [ Magic or True ]
Featuring: DJ Laurinda
ROCK 'N' ROLL #2 | Rock the night away in Liverpool's Nexth City with DJ Laurinda, lineup of artists
Rock the night away in Liverpool's Nexth City with DJ Laurinda and an epic lineup of artists!
Nexth City Presents: ROCK 'N' ROLL #2 in Liverpool, England
21:00 Nexth HALL, Cocktail
Event Code: [ Magic or True ]
Featuring: DJ Laurinda
Get ready to rock 'n' roll all night long in Liverpool's vibrant Nexth City! The stage is set, and the atmosphere is electric as we bring you the second installment of ROCK 'N' ROLL, a night that promises to be unforgettable. Whether you're a fan of classic rock, indie vibes, or just looking for a great time, this event has something for everyone.
Featuring the incomparable DJ Laurinda, the evening is sure to be a musical journey you won't want to miss. But that's not all; we have a fantastic lineup of musical artists that will keep you grooving and dancing throughout the night:
1. > Kid Dope: With their infectious beats and high-energy performance, Kid Dope is set to kick off the night with a bang.
2. > Thorr: Prepare to be transported to another world with Thorr's unique sound and captivating stage presence.
3. > Cira Grandi: This talented artist is known for their soulful tunes and powerful lyrics that resonate with the heart and soul.
4. > Lola: Get ready to dance to the rhythm of Lola's tunes, which fuse rock and pop seamlessly.
5. > Tiger Gang: These rockers will bring an edge to the stage with their raw and unapologetic sound.
6. > Emorie: With their ethereal melodies, Emorie will take you on a musical journey you won't soon forget.
7. > Isaac Joel: Expect soulful vocals and heartfelt songs that will tug at your heartstrings.
8. > Johanna Cranitch: Johanna's enchanting voice and introspective lyrics will leave you mesmerized.
9. > Noah Smith: Groove to the beats of Noah Smith's infectious music that blends genres effortlessly.
10. > Lost Portals: Closing out the night, Lost Portals will leave you wanting more with their distinctive sound.
The night kicks off with a cocktail hour at Nexth HALL, setting the mood for an evening filled with music, dancing, and unforgettable memories. Whether you're coming with friends or flying solo, you're sure to find a welcoming crowd of music enthusiasts.
Event Code: Magic or True - What's your choice? The night promises some magical surprises and undeniable truths that will make this experience even more memorable.
So, Grab your dancing shoes, and join us for ROCK 'N' ROLL #2 in Liverpool's Nexth City. It's an event you won't want to miss, with a lineup that will have you rocking and rolling until the early hours. Get ready for a night of music, magic, and true connection.
🎧Tracklist:
[00:00] 1. Kid Dope - Colors of the Night
[03:14] 2. Thorr - Slow Fade
[06:25] 3. Kid Dope - Listen
[08:45] 4. Cira Grandi - One More Chance
[11:13] 5. Kid Dope - Fast Cars and Wild Hearts
[14:19] 6. Lola - Magic
[17:34] 7. Tiger Gang - Head Zap
[19:58] 8. Emorie - This Love
[23:42] 9. Kid Dope - Never Changed
[26:28] 10. Isaac Joel - The Magic Chord
[30:26] 11. Johanna Cranitch - Strong
[33:52] 12. Isaac Joel - You n Me n Rock n Roll
[38:35] 13. Noah Smith - Indestructible
[41:56] 14. Lost Portals - Into The Water
[46:37] 15. Thorr - No Knocks
[49:05] 16. Emorie - Forever Anyway
#music #iradio #radio #lifestyle #playlist #Music #DJ #DJLaurinda #Laurinda #Liverpool #England #Rock #Rockmusic #RockandRoll #ElectronicMusic #ElectronicDanceMusic #EDM #DarkElectronic #ChillElectronic #hiphop #RetroHipHop #ModernHipHop #Rap #LoFi#LoFihiphop #pop #folk #INXA #fun #quirky #wave #party #partymusic #remix #mix