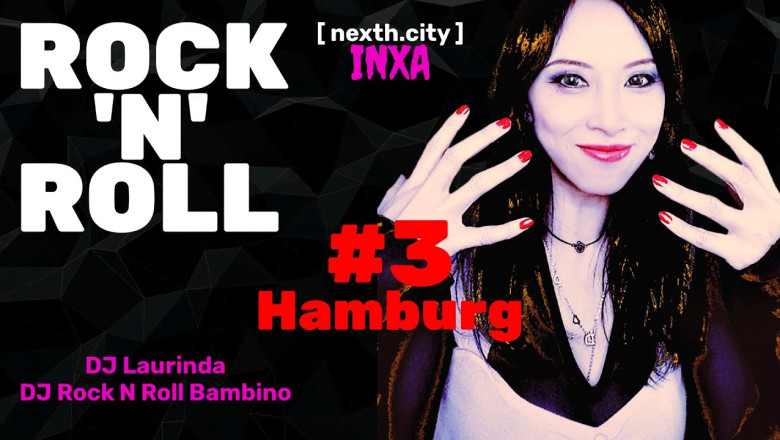 Rock 'n' Roll#3 extravaganza in Hamburg! DJs Laurinda, Rock N Roll Bambino. #NexthCityiRadio2023 🎸🤘

Nexth City iRadio 2023 - ROCK 'N' ROLL MUSIC #3
Rock 'n' Roll#3 extravaganza in Hamburg! DJs Laurinda, Rock N Roll Bambino. #NexthCityiRadio2023 🎸🤘
Rock 'n' Roll#3 extravaganza in Hamburg! DJs Laurinda, Rock N Roll Bambino. #NexthCityiRadio2023 🎸🤘
Nexth City iRadio 2023 - ROCK 'N' ROLL MUSIC #3
Location: Hamburg, Germany
Date and Time: 21:00 at Nexth Plaza, Cocktail
Event Code: Girl in Pink
Featuring: DJ Laurinda, DJ Rock N Roll Bambino
Nexth City iRadio is back with another electrifying event to celebrate the timeless genre of Rock 'n' Roll music. This year, Nexth City will be the host city, and it promises to be an unforgettable night filled with legendary performances, great company, and rock 'n' roll vibes that will transport you back in time.
Featuring DJs:
1. DJ Laurinda: Known for her impeccable taste in rock 'n' roll classics and a talent for keeping the energy high on the dance floor, DJ Laurinda will be spinning some of the greatest hits.
2. DJ Rock N Roll Bambino: With a name like that, you know you're in for a wild ride. DJ Rock N Roll Bambino is a rising star in the world of rock 'n' roll DJs, and he'll be bringing his infectious energy and a mix of old and new rock anthems to keep the crowd grooving all night long.
Musical Artists:
The lineup for Nexth City iRadio 2023 - ROCK 'N' ROLL MUSIC #3 is a rock lover's dream, featuring a diverse array of musical talent spanning different subgenres within rock 'n' roll:
Midnight Daydream: A band known for their haunting lyrics and bluesy rock sound, Midnight Daydream will set the stage on fire with their emotive performance.
Kit Keenlyside: With their raw, unapologetic rock sound, Kit Keenlyside promises to deliver a high-octane set that'll have you on your feet.
St Nullum: Prepare for a psychedelic journey as St Nullum's trippy tunes take you on a sonic adventure.
Reveille: Their high-energy punk-infused rock will have you moshing and headbanging in no time.
Ian Kelosky: Known for his soulful voice and timeless ballads, Ian Kelosky brings a touch of classic rock to the lineup.
The Revolution: A band that's true to their name, The Revolution will challenge the status quo with their rebellious spirit.
Wilder Ave: Expect a dose of indie rock excellence from Wilder Ave, a band that's making waves in the alternative scene.
Tiger Gang: Their garage rock sound will transport you to a smoky dive bar in the heart of the rock 'n' roll era.
Salon Dijon: Combining rock with elements of funk and soul, Salon Dijon brings a unique and danceable twist to the genre.
Dr. Delight: Closing out the night with their infectious grooves, Dr. Delight will ensure you leave the event with a smile on your face.
Nexth City iRadio 2023 #3 Hamburg station is going to be a night filled with electrifying performances, memorable music, and a sense of nostalgia for the golden age of rock 'n' roll. So, put on your dancing shoes, grab a cocktail at Nexth Plaza, and get ready to rock the night away at this spectacular event. Don't forget to use the Event Code "Girl in Pink" to gain access to all the rock 'n' roll goodness Nexth City has to offer. See you there! 🎸🤘🎤
🎧Tracklist:
[00:00] 1. Midnight Daydream - Skeleton Hand
[01:57] 2. Kit Keenlyside - The Very Best
[04:35] 3. St Nullum - Black Rose
[07:36] 4. St Nullum - Karpatia
[12:25] 5. Reveille - Cavern Club Blues
[14:43] 6. Ian Kelosky - Big Lips
[17:09] 7. The Revolution - Past Life
[20:04] 8. Wilder Ave - Crossroads
[22:24] 9. St Nullum - Iluvatar
[26:26] 10. Tiger Gang - Double Down
[28:45] 11. Salon Dijon - Match Point
[30:53] 12. Dr Delight - Dont Stop Now
#music #iradio #radio #lifestyle #playlist #Music #Hamburg #DJ #DJLaurinda #RockNRollBambino #Laurinda #Rock #Rockmusic #RockandRoll #hiphop #RetroHipHop #ModernHipHop #Rap #LoFi#LoFihiphop #Rock #Rockmusic #RockandRoll #ElectronicMusic #ElectronicDanceMusic #EDM #DarkElectronic #ChillElectronic #pop #folk #INXA #fun #quirky #wave #party #partymusic #remix #mix