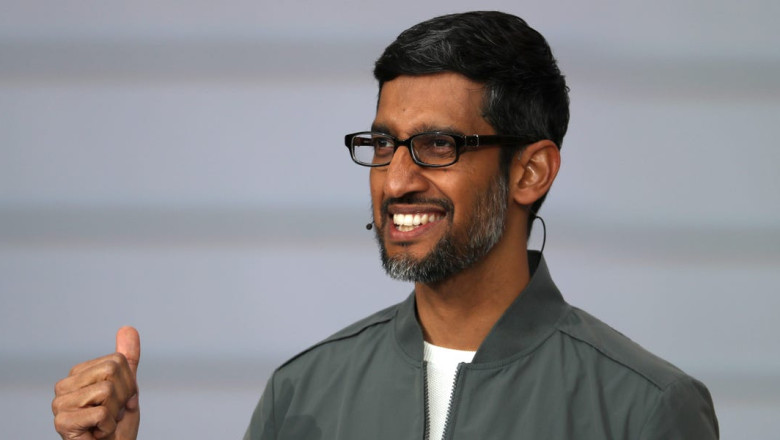 AI "is the most profound technology" the company is working on, Pichai said. He first mentioned Google's plans to become "AI-first" several years ago.
Google CEO Sundar Pichai says users will be able to interact directly with AI features in its search engine 'very soon'
Thanks for signing up! Access your favorite topics in a personalized feed while you're on the go. download the app Email address By clicking 'Sign up', you agree to receive marketing emails from Insider as well as other partner offers and accept our Terms of Service and Privacy Policy.
Google is keen to show the company is still "AI-first."
Its CEO, Sundar Pichai, told investors on Thursday that AI "is the most profound technology" the company is working on. His comments came several years after he spoke about Google becoming an AI-first company.
Pichai said on Thursday that the tech giant was planning to make its language models, starting with Google's Language Model for Dialogue Applications (LaMDA), available for users to "engage directly" with.
"Very soon, people will be able to interact directly with our newest, most powerful language model as a companion to Search, in experimental and innovative ways," he said.
OpenAI released a chatbot based on a large language model, ChatGPT, in November. The chatbot quickly went viral and sparked a general interest in generative AI.
Back in December, Google's management issued a "code red" amid the launch of the OpenAI's chatbot, The New York Times reported.
Microsoft, an investor in OpenAI, is reportedly planning to launch a version of Bing that incorporates the tech behind ChatGPT. The feature, which aims to provide users with answers to some searches rather than just displaying relevant links, could surface by the end of March, The Information reported.
Google also reportedly plans to demo a version of Google Search with AI chatbot features this year.
Google employees are also testing potential challengers to ChatGPT. The bot, "Apprentice Bard," uses Google's LaMDA technology, CNBC reported, citing sources and internal communication seen by the publication.
Google did not respond to Insider's request for further comment made outside normal working hours.